Who Should Attend:
Managers, supervisors, and team leaders

Recommended
Group Size:
6 or more participants

Program Length:
3 days





If your organization is like thousands of others, chances are your supervisors were promoted from the ranks of the employee workforce. Unfortunately, high-performing employees don't always make the best supervisors. And by the time it's apparent that they need formal supervisory training, production is down, morale is low, and quality improvement is stalled.

Supervising by Design gives your supervisors the knowledge and skills they need to keep pace with today's complex leadership demands. This interactive, skills-oriented program helps transform supervisors into empowered, committed leaders whether they are newly hired or have years of experience. Your supervisors will learn how to boost morale, revitalize work teams, open lines of communication, and focus on quality.

Supervising by Design participants will:

Examine and clarify the supervisor's role.

Learn a model for effective supervisory behavior.

Gain employee commitment.

Improve communication skills.

Develop team leadership skills.

Improve action-planning skills.

Learn how you can implement Supervising By Design in your organization!
contact Training Evaluation Services.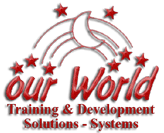 Copyright © 1998-2004 the our World Family of Companies. All rights reserved.

Program Selector
TEAMPOWER
Challenge™

Return to
Programs Home