"

Donald G. Carty offers a unique glimpse & perspective to the inner workings & mind of man.

He believes that life is filled with possibilities waiting to be realized, rich with meanings calling out to be understood.

This idea of a mystical or spritual dimension to life, the "not visible" or the "not yet" that can only be known through intuition or by a leap of faith, is far more important to Donald than the world of material things.

Whether one be a follower of the various faiths of this world or other worlds , the design of D.G.C.'s work is enthralling.

Take a moment & let the power of his work draw you into a new reality."

Browse and Listen to The Complete Collection Here.


Donald Carty the Consultant. The key to Personal Development is self-knowledge. The Free Personality Profile is the starting point . The Free Personal Potential Assessment will help you identify your natural motivations, interests and talents for work. Once you have completed the free personality profile and the free career potential assessment then you are ready to Build Your Mission Statement.

Donald Carty the Artist & Writer.
Donald is one of the best presenters of Personal Development information in the world. But he is also a man with a mission, to bring this key information for achieving success and fulfillment to the individual person who needs it most.
The works of "Meditations & Spoken Word Inspiration" offer a plethora of data for the soul in it's infinite journey. It's soliloquy is a sublime meditative series of affirmations & thoughts , rooted in eternity. This tree has many branches & multi-colored leaves all flowing in the stream of light , energy & the power of love."
Take a moment & let the power of this work draw you into a new reality.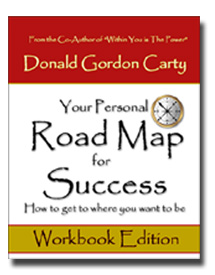 The Workbook "Your Personal Road Map for Succes - How to get to where you want to be."
This powerful workbook will teach you how to make better use of your unlimited potential and become successful in all areas of your life. This is a "Practical" course which, in a short time, will guide you to the summit of the art of living and success. It has also been designed not merely to be read but to be "Experienced."
Higher natural aptitudes have lain dormant inside you ever since you were very young. Now is the time for you to discover them.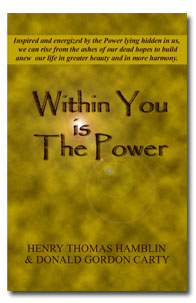 The Book "Within You is The Power."
More now than ever before we need to be inspired and energized by the Power lying hidden in each of us, so that we may rise from the ashes of our dead hopes to build anew our life in greater beauty and in more harmony. This illumination makes this book even more pertinent now than when it was originally written over 80 years ago in the 1920's.
"The enlightened message of this book moves forward in time with grace and ease, and serves to help bring the inner power of mind and spirit into expression, wisely and in harmony with Universal Law." Donald G. Carty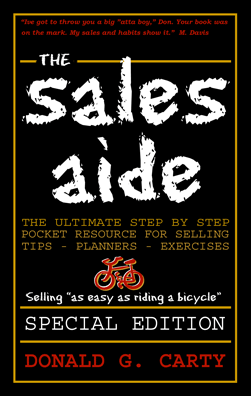 The Pocket Guide "The Sales Aide - a Pocket Resource Guide for Salespeople."
A step by step pocket resource guide for salespeople — full of tips, planners, and exercises. Makes selling "as easy as riding a bicycle." Presented through a collection of Donald Cartys' very best tried and proven first hand selling action plans.
Donald acquired his message through 25 plus years real life selling experience. He has been a top 6% sales producer for several companies within several different industries. His work involving this unique assimilation of such diverse selling scenarios has been the most fulfilling part of his professional life - distilling it, his most successful.
The Sales Aide is the outline for selling success that Donald has drawn.