GAMES / DIVERSITY

Global Beads®
By Global Lead
Finally — an interactive diversity game that is easy to facilitate but drives home its point. Introducing Global Beads®, an innovative, experiential learning tool explores the ways in which factors such as race, gender, age, and religion play a role in socialization, and impact our interactions with others. What makes Global Beads® so powerful is that participants learn from their own lives and experiences, not a hypothetical case study or abstract lecture. There simply is no other product like it available today.

How the game is played:

Using colored beads to represent different races, genders, and religious groups, participants respond to a series of 33 questions in order to create visuals of their background and the choices they have made in their lives. A thorough debriefing discussion then helps participants to make a conscious effort to create larger zones of familiarity, comfort, and trust.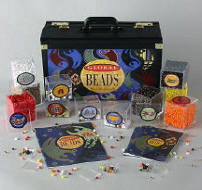 Global Beads® Learning Outcomes:
Create a visual representation of socialization
Understand how individual socialization affects interactions
Learn how make deliberate attempts at building relationships with different groups
Increased familiarity, comfort, and trust between people of different backgrounds
The Participant Guide provides participants with a personal journal to record their thoughts, comments, questions, and insights during and after the exercise.

Highlights from the Facilitator Guide include step-by-step guidelines; questions to participants; debrief discussion; adaptations; teaching aids; and race, ethnicity, gender, age, and religion overviews.