Personal Development Institute Announces

Within You is The Power Released as Ebook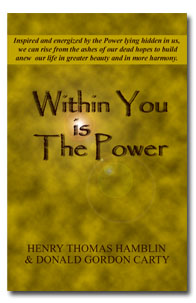 Atlanta, Georgia - Oct 01, 2004 "The enlightened message of this book moves forward in time with grace and ease, and serves to help bring the inner power of mind and spirit into expression, wisely and in harmony with Universal Law."., explains Donald G. Carty. "More now than ever before we need to be inspired and energized by the Power lying hidden in each of us, so that we may rise from the ashes of our dead hopes to build anew our life in greater beauty and in more harmony."
It was around the early1920's that Henry Thomas Hamblin began to write. The words seemed to flow from him. He found writing clarified his thoughts. Within You Is The Power was one of his first books written in this new phase of his career was, and it went on to sell over 200,00 copies.
Donald Gordon Carty recieved a copy of this book some twenty years ago, and has edited and added content in such a way as to keep the "energy" true to Hamblins' original. Mr. Carty has authored hundreds of articles and two books, on personal development and personal transformation.
ORDER TODAY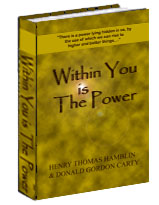 Get the PrePress E-BOOK Version today and recieve 8 Special E-Book Bonuses. AS OUR THANK YOU TO YOU.
· Acres of Diamonds: follow these principles, and you will uncover your own acres of diamonds.
· The Science of Getting Rich: guides us toward financial success by providing the tools to spiritual growth through the acquiring of riches.
· As A Man Thinketh: few books have been so widely read, have stood the test of time so well, have had such an impact on generations of readers, and have carried such a simple, profound message.
· Think and Grow Rich: this book will teach you the secrets that will bring you a fortune. It will show you not only what to do, but how to do it.
· And More:
About Personal Development Institute
Our purpose is to awaken people to a new way of thinking about what it is to be human and what it takes to make life and work more rewarding and fulfilling.
The Free Resources offered by the Personal Development Institute provide invaluable feedback about where you are starting your personal self development journey.
© ourWorld Family of Companies 2001-2004, all rights reserved, The Personal Development Institute® 2004 © Within You is The Power Henry Thomas Hamblin and Donald Gordon Carty 2004.